Healthy Living With Diabetes Classes
Sign up now for these classes!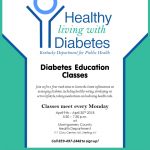 Join us for a four-week series to learn the latest information on managing diabetes, including healthy eating, developing an active lifestyle, taking medications and reducing health risks. Classes meet 5:30-7:30 pm every Monday from April 9 through April 30. To sign up, call 859-497-2448 or use the form below.
Healthy Living With Diabetes Class Sign Up