Distracted Driving Awareness Month
With ever increasing demands on our personal and professional time in today's busy society, learning to juggle multiple tasks at once is something we all face daily.  As a result, a new traffic safety epidemic has emerged on America's roadways that demand immediate attention: distracted driving.

Latest News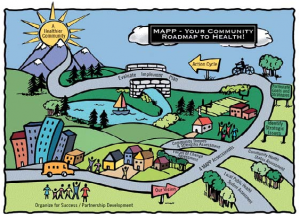 What health and safety issues need to be addressed to improve the health in Montgomery County??
Click here to complete a survey to tell us what you think and then share this link with family, friends, neighbors and co-workers who live, work or play in Montgomery County.
This survey is being conducted by the Montgomery County Healthy Communities Coalition as part of their efforts to improve the health of Montgomery County.  The Healthy Communities Coalition is a group of community leaders, organization representatives and interested citizens. For information or to get involved, contact the Montgomery County Health Department at 859-498-3808. Improving health requires partners and the expertise of all those who live and work in our community.

The American Heart Association has released a new printable poster to encourage you to replace sugary drinks with healthier choices! To download the poster and start making healthier drink choices click HERE.

The monthly message from the Kentucky Governor's Office of Early Childhood now has its own page on our website. These messages are great sources of information on helping your child grow and develop in their earliest years! You can find it by mousing over the Community link at the top of our page then click Kentucky Governor's Office of Early Childhood or by clicking HERE!

Type 2 diabetes can be prevented or delayed by making lifestyle changes that include weight loss and more physical activity. In this video Full Story

Public Health Home Flooding Safety Guidelines
The Kentucky Department for Public Health issues these safety guidelines for after floods. Full Story